Messaging apps like WhatsApp are popular in today's date because there is no cost to send messages through them. However, the problem with these apps is that the sender and receiver must have it installed on their device. Apart from this, it is mandatory for both the users to be connected to the Internet. If you want to send a message to a person who is unable to access the internet, then you will have to use the SMS app to send the message.
(See also: Make a backup of your smartphone's contacts like this,
There are also some ways through which you can send SMS for free. Make it clear to you that nothing in the world is available for free. Behind every free service there is a screw. Before using any of these services, you should know that you will start receiving advertisement emails and SMS. Keep in mind that when you install a free SMS app, how many permissions have you given to that app so that your privacy is not violated. It is possible that these services providing free services may sell your contact to a marketing company.
We came across several Internet services that claimed that you could use them to send or receive text messages for free. But we did not find most of these reliable. We have used most of these and found that the claims of these services were not valid. By the way, some services are reliable.
way2sms
We have tried some of the free SMS services and found Way2sms to be very useful. Text messages sent using way2sms were delivered quickly. It works on mobile and desktop browsers. Its Android app is also available. The mobile website of this service can be accessed from every platform.
There are some drawbacks in this service as well. Advertisements will pile up. We got the promotional mail even before the verification mail arrived. Also we would not recommend you to use Way2sms Android app, as it asks for various permissions from you. These include 'Edit and delete the contents of your USB storage', 'Test access to protected storage', 'Permission to read log data' and 'Location'. The mobile site is good so you don't need to download the app.
You can send SMS using Way2sms as follows:
Way2sms website Go to and create an account. You will be sent a password on your mobile and also a verification email. You'll need both to verify your account and send SMS for free.
Now open the website and login. Now click on Send Free SMS. This will take you to a page where Way2sms will ask you to add your contact. It is not mandatory to do this, but the site's effort will be such that you always save the contact on its server. Then click on the Send SMS link which is present next to the home icon at the top.
Type in your friend's number, then your message. And send it by clicking on Send SMS.
160by2 It also offers similar services, which was once a rival to Way2sms, although it was later bought by Way2sms itself. Well it still works as a separate service. There is also a Chrome extension for this service, through which you can send SMS faster. We think Way2sms is a better option as its mobile site is more user friendly.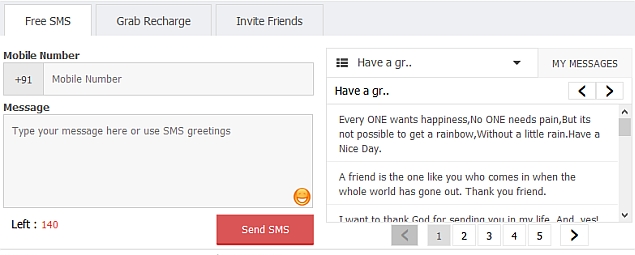 Hike
Hike Messenger is a messaging app that is available on most platforms. Through this app you can send SMS messages as well as messages to other Hike users. On signing up you get a balance of 20 free SMS. If you send a referral message to someone else to join Hike, you will get 50 more free SMS. Through Hike, you can not only send messages and you will also be able to receive them. As soon as your friend replies to the free SMS sent by you, you will receive it in the app. You can get more free SMS by chatting on Hike messenger.
The app is available on iOS, Android, Windows Phone and BlackBerry. This is how you can send free SMS using Hike.
Install the app and register your account. Now tap on the new message button. After this, enter the phone number of any person who is not present on Hike. This message will automatically go as SMS.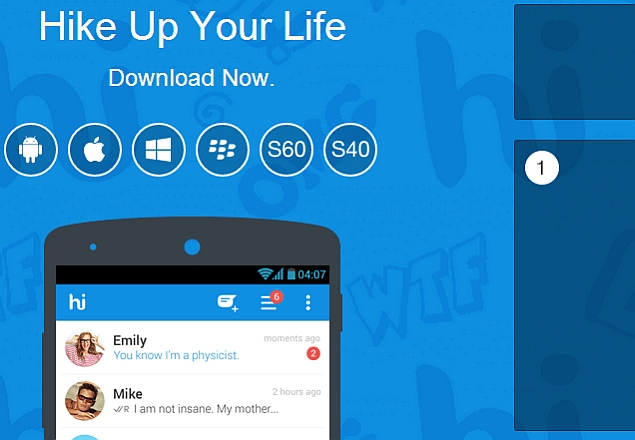 Or you can also choose the number from your contact. Keep in mind that if Hike is not installed on your friend's device then only you will be able to use free SMS. Otherwise the message will go through Hike messenger.