Booking tickets on IRCTC website is no less than a pilgrimage. When you go through every page of this website, you realize where technology has come from, but India's biggest e-commerce site is still stuck in the technology of the year 2000. However, it does work in some way and you cannot ignore it, especially when you have to book a train ticket.
First of all you have to be aware of the rules and regulations. Their number is also very high and they are also complicated. Do you know about all the laws of Tatkal tickets? How many classes are there in the train? What is the difference between a sleeper and a seater? Which train is the best on a given route? And what are the chances that your ticket will be booked? We will help you find the answer to these questions. By following the tips given below, your chances of 'good journey' will increase.
1) Plan your trip at the right time
This is the easiest solution. If you book the ticket as soon as the advance booking is opened, then the chances of getting a confirmed ticket automatically increase. These days advance booking starts 120 days before the date of travel. You Ticketdate You can get help regarding this from the website. This website will tell you about the date of commencement of advance booking in any train. By the way, advance booking depends on the train. There are many such trains in which booking starts 10 or 30 days in advance. Tatkal tickets are the way to get tickets at the last moment. These are more expensive and are available a day before the date of travel.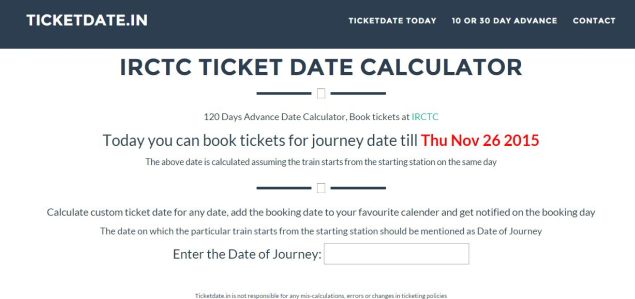 2) If you have a waiting ticket
If you have got a waiting ticket, then you can also know about the possibility of its confirmation. Third-party app Trainman 'predicts' when your waitlist ticket is confirmed. Actually this app tells about the probability of ticket confirmation and it does so on the basis of waitlist ticket history. Trainman keeps track of the starting and ending status of the waitlisted ticket and also the difference of days between these two statuses. Based on this, in percentage figures, it tells about the chances of getting the ticket confirmed. You can also know about the possibility of getting your ticket confirmed by entering the PNR number of your ticket.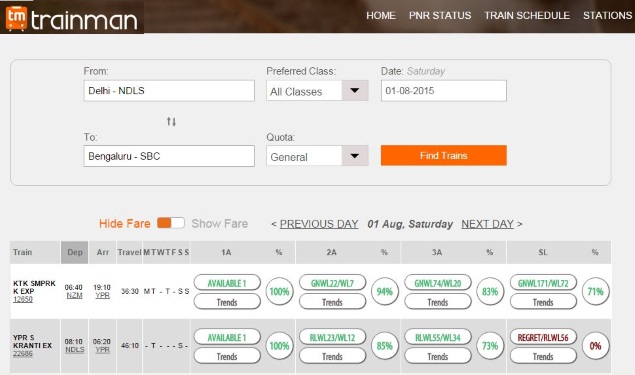 You can also know about the ticket confirmation probabilities for each train running on a particular route. You have to tap on the percentage symbol and Trainman will make the prediction. Whichever train will be seen in green, the chances of getting the ticket confirmed are more and less in red ones. Trainman also gives you information about the fastest train on a particular route. In such a situation, before booking tickets, you can get a lot of information using this app.
3) Know station codes, schedules and routes
There are many things you need to know before booking a ticket. answers to most of your questions Indianrail.gov.in Available on website. The site contains real time data on seat availability, fares, schedules and routes. The website is nothing special to look at, but with its help you will reach a decision.
4) Use the autofill tool to book Tatkal tickets
Are you booking Tatkal tickets for your family? Developed by Amit Agarwal, Magic Autofill Button enhances the chances of booking a confirmed ticket. This tool allows you to fill the booking details of the passenger in advance. Exactly at 10 am, as soon as the Tatkal ticket window opens, you have to do a single tap and all the details will be automatically populated on the browser page.
5) Book 'Cash on Delivery' tickets through BookMyTrain
Don't have online payment facility? Don't worry, BookMyTrain app is there. It is available on most smartphone platforms. This app gives you the facility of 'Cash on Delivery' in more than 200 cities of India. To know more about this app read our review,
6) Ticket not confirmed? convert train ticket into flight ticket
IRCTC has tied up with low cost flight operators. Under this agreement, you may convert your waitlisted ticket into an airline ticket. This facility is available on the date of journey or the day following it. According to an IRCTC spokesperson, this service is 30-40 per cent cheaper than regular flights. However, this service is available to only those passengers who have booked tickets at least three days before the date of journey.
7) Know through Railyatri whether your train is on time or not
If you want to ensure that no time is wasted on the platform due to train delay, Railyatri is here to help you. It has Live Train Status feature through which you can know where your train is in real time. The website has a great map based feature that tells you where on the train route you will not be connected to the cellular network.
8) Didn't take food? 'Train Delivery' will happen
It is better not to eat the food found in the pantry car. But you will feel hungry, in this case Travel Khana will come in handy. It serves breakfast, lunch and dinner on more than 2000 trains. Its facility is available at most major stations of the country. This service works on 'Cash on Delivery'. You can order your food through the app or phone.
9) Map is a great thing
Sometimes the map proves to be the most effective, especially in places where there is limited connectivity. Travelers who do not have a fixed plan, they can know about the nearest station through the map.