Arbitrage Funds are equity oriented hybrid mutual funds that can earn returns during market volatility. These funds actually take advantage of the difference in the prices of any one security in two markets. For example, if the price of a security is Rs.100 in the spot market and it is running at Rs.102 in the futures market, then its fund manager takes advantage of this difference in prices. This requires expertise.
What are Equity Oriented Hybrid Funds?
Before going into the details of Arbitrage Funds, let us understand Equity Oriented Hybrid Funds. Hybrid funds can invest in asset classes or assets like equity ie shares, debt, gold etc. In order to reduce the risk, these funds invest in different asset classes in a specific proportion based on their investment objective. Now if a hybrid fund invests at least 65 percent in equity, then it is placed in the category of equity oriented hybrid fund. Arbitrage funds fall in this category.
How Arbitrage Funds Earn Profits?
As you know earlier, this fund takes advantage of the difference in security prices between two markets or two exchanges and earns returns from the same. This is its primary purpose.
For which investors are Arbitrage Funds?
The risk profile of Arbitrage Funds is similar to that of Debt Funds. The benchmarks of most arbitrage funds are liquid funds. This means that investors who want to invest in equity but their risk appetite is equal to investing in fixed deposits, they can take the help of these arbitrage funds.
What are the factors to be considered while investing in Arbitrage Funds?
Fund Manager: In case of arbitrage fund, the most important role is played by the fund manager. They look for arbitrage opportunities. So, while investing in arbitrage funds, you should look at the past performance of your fund manager.
Do not expect high returns: Arbitrage funds take advantage of the difference between the prices of securities in two markets. Means bought in one market and sold immediately in another. In this case, the risk associated with investing in equity is not in them. However, such opportunities and price difference are rarely seen. Hence, the returns are also average. In the long run i.e. 5 to 8 years, you can expect 7-8 percent returns from them.
How much has been the return?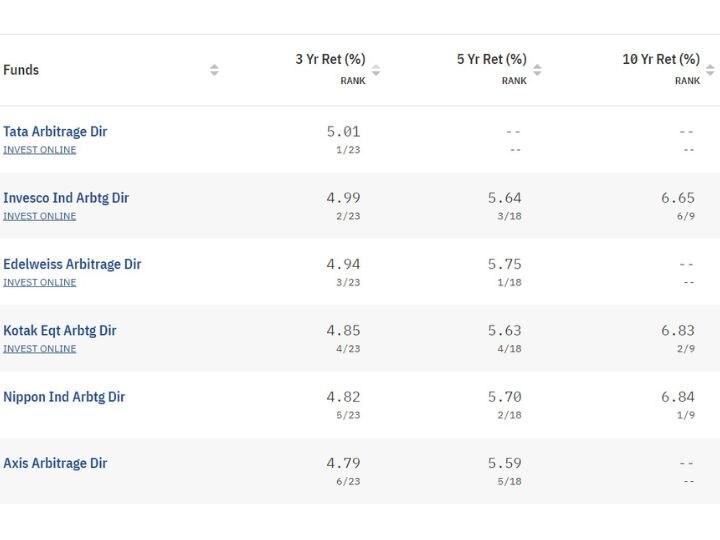 (Source: Value Research)
How much is tax?
If you withdraw from your arbitrage fund before one year, you will have to pay capital gains tax at 15 percent. On the other hand, if you sell its units after one year of purchase, then you will have to pay tax at the rate of 10 percent on the amount exceeding Rs 1 lakh. It is important to know here that investors do not have to pay any tax on profit up to Rs 1 lakh.
When to Invest in Arbitrage Funds?
Investors can allocate a small portion of their investment portfolio in arbitrage funds for the short term when the stock market is volatile. However, when the market is trending in one direction, the arbitrage opportunities are less and hence the returns get affected.