Recep Tayyip Erdogan Vs Kemal Kilicdaroglu: Voting took place on Sunday (May 14) regarding the most decisive elections in Turkey's modern history. These elections are also important because only after its results, it will be decided whether the President of this country, Recep Tayyip Ardoan, who has been in power for 20 years, will remain in office or not. The report of 'Al Jazeera' TV channel says that there has been a significant voting here, but officially the situation is not clear yet on what percentage of voting has taken place.
It may also take 3 days for the election results to come here. Where 69-year-old President Ardoan has asked supporters to protect and keep an eye on the ballot boxes after voting. And his main rival, Kemal Kalchdarlu, has promised to revoke many of the powers President Erdogan gained after surviving a failed coup in 2016.
How did Turkey change in 20 years?
Kalchdarlu, 74, also has a realistic chance of winning, as many voters in the Republic of Turkey, formed on October 29, 1923, see this election as a change after two decades. Eight and a half crore residents of this country are troubled by two issues, rising inflation and earthquake. Mustafa Kemal Ataturk was the first President of this country. He is considered the founder of modern Turkey, because he laid the foundation of this republic as a secular and Turkic nationalist country.
Then the Ottoman Empire of 'Dour-e-Osmania', which ran on Islamic law, had collapsed, but in the last 20 years, Turkey has been transformed into a completely different country from the Turkish Republic created by Ataturk. It is believed that ever since President Ardoan took over the reins of government in 2003, he has been trying to make the country conservative. Here Ardoan was the Prime Minister from 2003 to 2014, later he became the President.
His rival Kamal Kalchdarlu, on the other hand, has promised to return the NATO member country to a more pro-Western, more democratic era. At the same time, the Islamist government of President Ardoan has accused the western countries of conspiring to topple his government.
Turkish people eager to change power
Here people are so eager to change the power that they started queuing up even before the polling stations opened. More than 100 buses were set up to bring people displaced by the disaster from Antakya, one of the cities hardest hit by the February earthquakes, so they could vote. Due to this, 11 provinces of this country have been affected the most.
To win outright in Sunday's vote, the winner needs more than 50 percent of the vote. Otherwise it gets run-off in two weeks time. Meaning that after a tie or inconclusive results, elections are to be held ahead. In fact, to win the election in the first round, a candidate needs more than 50 percent of the votes. At the same time, if needed, the second phase of elections in Turkey will be held on May 28.
To enter Turkey's 600-seat parliament, a party must have 7 percent of the vote. A party can enter Parliament even if it is part of a coalition with a sufficient number of votes. Here it is a rule that a person can become the President only for two terms and these terms of Ardoan have been completed. A referendum was brought here in 2017 regarding the rights of the President. Because of this, Ardoan's first term ended early. This is the reason why he is in the race for the presidential election for the third time.
Kamal Kalchdarlu shouted "all will be well" as he arrived at a packed polling station at an Ankara school. During this, a voter called him "Dadaji". His name has become a term of endearment for the young voters there. During this, a voter Sima who came with her friend Pillay to welcome him said that she is excited about the idea of ​​change after more than 20 years.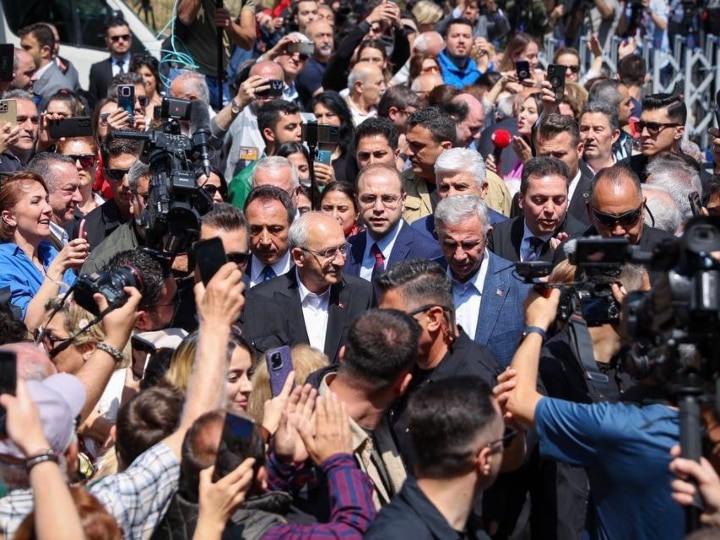 Why is Kalchdarlu called Gandhi in Turkey?
This time Kalchdarlu is giving a tough fight to President Ardoan in Turkey. Here, six opposition parties together have nominated Kamal Kalchdarlu, leader of the Republican People's Party, as their candidate for the post of President. He is maintaining an edge over Ardoan in the polls. He is famous there as 'Turk Gandhi'. Turkey's local media calls him 'Gandhi Kamal'. Along with wearing glasses like Mahatma Gandhi, his political style is also full of humility.
Taking inspiration from Gandhiji's Dandi March, Kamal took out a 'March for Justice' from Ankara to Istanbul (450 km) against Ardoan in 2017. According to the New York Times, more than one million people participated in it. Then Ardoan's government put 2 lakh people in jails. Alam had happened that there was no space left to keep people in all the 372 jails of the country.
Ardoan remained with Pakistan on Kashmir issue
Turkish President Recep Tayyip Ardoan has always had a soft stance towards Pakistan regarding Kashmir. He has always been supporting Pakistan on this issue. He even ignored India's help in the devastating earthquake that hit here in February. In fact, India not only ran Operation Dost in Turkey during the earthquake, but also helped it in every way.
Ardoan has been saying that the solution of Kashmir should be under the resolutions of the United Nations (UN). Last year was only 2021 when he remained neutral on the issue of Kashmir in the UN. Then he said, "India and Pakistan became independent 75 years ago, but peace-peace unity could not be established between the two countries. We hope that soon proper and permanent peace will be established in Kashmir."
read this also: Pakistan Violence: More than 500 people involved in violence arrested, Imran Khan's problems may increase