We've all heard horror stories about people running up massive bills while playing so-called "free" games. Regulatory bodies in Europe have taken note of complaints, such as one case where an eight-year-old girl spent $6,700(Rs. 4.15 lakh) while playing games such as Smurfs' Village and My Horse. The issue has recently returned to the spotlight as it may have been the reason why Apple re-labelled the Free button on its App Store to Get.
Apps and games with in-app purchases are the most successful apps on both Android and iOS. This model often results in a frustrating experience when developers hamper gameplay for monetisation, as we noted while writing about god game Godus and in our review of Gameloft's Amazing Spider-Man 2. But we've also written about games that manage in-app purchases well, so that your experience isn't hampered. The models need to evolve but right now, if your child plays games on your phone or tablet then the current reign of games with IAPs can be a real cause to worry.
The jury is still out on how to fix games that abuse the in-app purchase system, but an easy way to deal with the problem is to disable in-app purchases altogether. Here's how you do that, on all the popular platforms.
iOS
Go to Settings > General > Restrictions

Tap Enable Restrictions.

Set a Restrictions passcode.

Re-enter the passcode.

Scroll down to In-App Purchases and flick the switch to Off.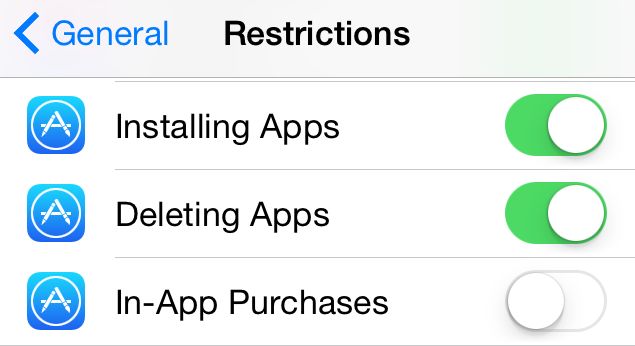 Android
Open Play Store and tap the hamburger icon (three horizontal lines) on the top-right. Note that the icon could be on the top left instead, depend on which version of the app you're using.

Tap Settings.

Tap Require authentication for purchases.

Select For all app purchases through Google Play on this device.

Enter your Google account password and tap OK.
You can't disable in-app purchases alone on Android, but this will ensure that you will have to enter your Google account password before buying anything – this covers both paid apps and in-app purchases.
Amazon Appstore
Open Amazon Appstore on your Android device.

Tap the hamburger icon on the top-left, next to the Amazon logo.

Tap Settings.

Tap In-App Purchasing.

Uncheck Allow In-App Purchases.

Enter your Amazon account password and tap Continue.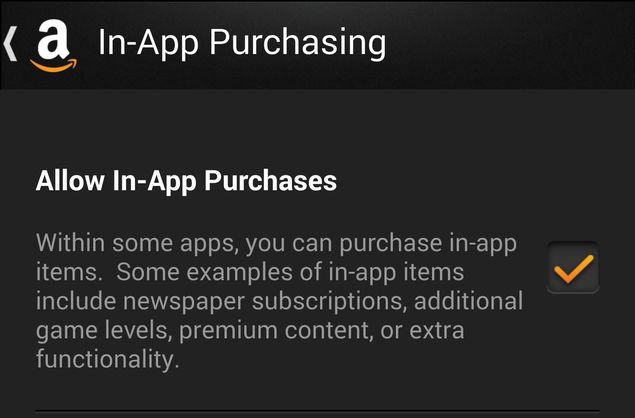 Windows Phone
Open the Store app.

Tap the three dots icon on the bottom-right and tap Settings.

Tap PIN.

Tap the button next to Wallet PIN to turn it On.

Enter a 4-digit PIN twice and tap done.

Check Use Wallet PIN to protect music, app and in-app purchases. Now in-app purchases won't be completed unless the wallet PIN is entered.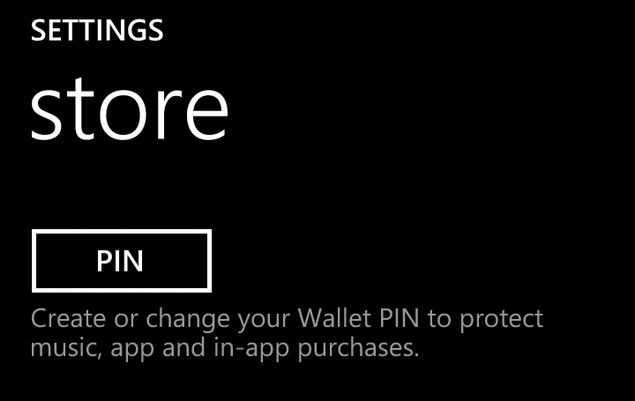 BlackBerry 10
Go to Settings > Security and Privacy > Parental Controls.

Flick the switch next to Parental Controls to On.

You'll be asked to create a parental controls password if you haven't already. Type in the password and press Okay.

Scroll down to Purchase Content and toggle it to Off.
For more tutorials, head to our How To section.
For the latest tech news and reviews, follow Gadgets 360 on Twitter, Facebook, and Google News. For the latest videos on gadgets and tech, subscribe to our YouTube channel.

Apple iPad Air 2, iPad mini 3 Available in India From November 29

Xiaomi Redmi Note Launched at Rs. 8,999; 4G Model Coming Soon for Rs. 9,999