If you are reselling your old phone, or just handing it over to a loved one, you want to make sure that all your personal data is completely deleted before you do this. We've already described the process in case you're moving on from an iPhone, Android, or Windows Phone. If you have a BlackBerry 10 phone, this is what you need to know.
microSD card
In case you're moving to another BlackBerry or an Android handset, then you can just transfer your old microSD card, but if you're moving to a phone without a microSD card, or to a newer, bigger microSD card, and plan to give the existing one away, then you want to make sure that all the data on the card is deleted first.
First you'll want to back up all files on the microSD card.
1. On your phone, go to Settings > Storage and Access. Scroll to the bottom, and turn on the switch marked USB Mass Storage. Tap Continue.
2. Connect your phone to the computer with a USB cable.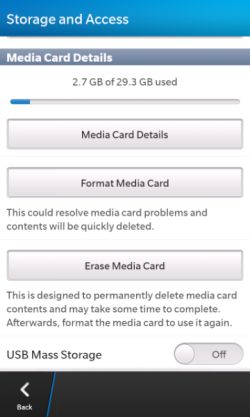 3. Open My Computer on your PC, or Finder on your Mac.
4. Navigate to the SD card and copy all the files you want to save to your computer.
5. After the copying is done, you can safely eject your phone.
Now, you can erase your memory card.
1. On your phone, go to Settings > Storage and Access. You have to turn off USB Mass Storage for the next step.
2. Scroll to the bottom and tap Erase SD card. You'll see a warning message telling you that you'll lose all the data on the card. According to BlackBerry, this permanently deletes all the contents of the card. Tap OK to continue. You're given one last warning and have to tap OK again, and then the process may take a few minutes, depending upon the size of your card.
3. Once this is done, all the data on the card is erased but the card cannot be used right away. In case you are handing over the card along with your phone, then you need to format the card. To do this, just tap Format Media Card in the same menu. This is a much quicker process and usually takes just about a minute.
Backing up the data on your phone
Your BlackBerry can be set to use Google accounts – this will back up your contacts and calendar. If you've set up Gmail on your phone then this should already be active, and your contacts and calendar data is already backed up to Google's servers, provided you haven't changed anything in the last 30 minutes (the default sync interval). If not, this is how you can enable it:
1. Go to Settings > Accounts. Tap Add Account from the bottom of the screen and then tap Email, Calendar and Contacts.
2. On the next page, enter your Gmail address and tap Next. Then enter your password and tap Sign in. This will set up the account. Make sure that all three switches are on.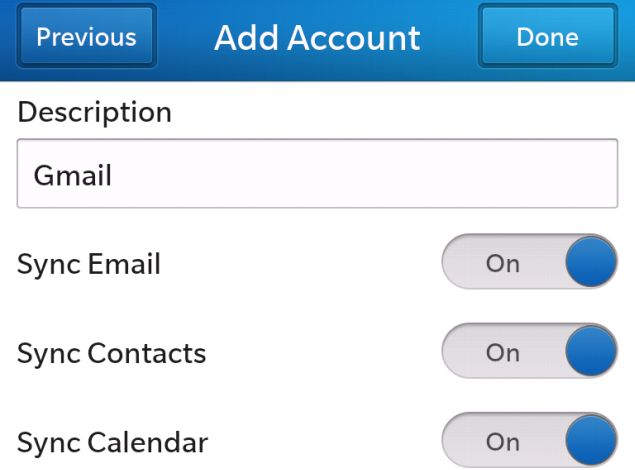 You can also back up your messages, call records and other information using the BlackBerry Link software for Windows and Mac. Once that is done, start the software, and connect the phone to your computer using a USB cable.
Once the software is running, all you need to do is sign in with your BlackBerry ID, and the first thing it does is make an automatic backup of all your data. In case the backup doesn't start automatically, in BlackBerry Link click on Back Up and Restore > Back Up Device. There is no easy way of transferring this data to a non-BlackBerry device, but you can use this in case you are switching to a new BlackBerry phone.
Delete everything
Now that you've made a backup, you can safely delete everything on your phone. According to BlackBerry the Security Wipe is meant to permanently delete all data so it can't be recovered. This operation should not be interrupted and takes around 15 minutes, so you should connect your phone to the charger before wiping it. Here's what you want to do:
1. First, fully erase the SD card as discussed above or take it out and keep it safely if you plan to use it in your new phone.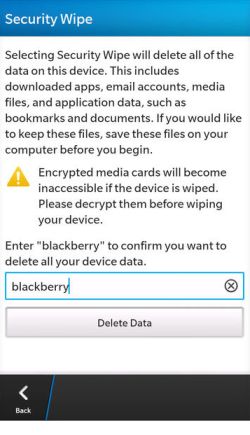 2. Next, you have to perform a Security Wipe, which removes all the data and accounts on your phone. Go to Settings > Security and Privacy > Security Wipe.
3. A warning informs you this will delete all the data on the device, all apps and synced accounts. Also, if you had used the encryption settings to encrypt the SD card, it will become completely inaccessible. To go ahead with the wipe, you have to type in blackberry in the text box, and then tap Delete Data.
4. You get one final warning, and you have to tap OK – and then the phone deletes everything. This is a slow process that took around 20 minutes, with multiple restarts. It also took more than half our battery to complete but once this is done, your phone is ready to recycle.
Restoring your files on another phone
If you followed the steps mentioned above in backing up properly, then you should be able to get all your data back without any difficulty at all. For one thing, if you're continuing to use your old microSD card in your new phone, then your movies, music and photos get transferred automatically.
Otherwise, when you get your new phones, just sign in with the same Google account to carry over your contacts and calendar data, and transfer the files from your computer using the USB cable in the same way that you copied them to the computer, as described above. The same steps should work for most Android phones too.
In case you are switching to an iOS device, you can still sync your Google account to transfer your contacts and calendar, while you can use iTunes to transfer the backed up media files.
If you're moving to a new BlackBerry, then you should ideally have used the desktop software. When you connected your new phone to the computer, just sign in with the same BlackBerry ID as before and it will automatically recognise the new device and ask if you want to restore your data from the backup. Just keep tapping OK until it's done. In case the automatic restore doesn't take place, run BlackBerry Link and go to Back Up and Restore > Restore Device. Select the latest backup file, and click Restore.
If you found this tutorial useful, check out more in our How To section. If you have any tips that can help to securely wipe BlackBerry phones, let us know via the comments.