The new iPhone 6 and iPhone 6 Plus are finally here and we are starting to see some pretty good deals pop up online on them as well. We've been pretty tempted by these deals, and so have plenty of people we've spoken to, but the one concern that most people raise is whether the phones are being sold legitimately, with a warranty.
There are a few things you want to keep in mind, and the first is to double check that the seller has a return policy. You should also check if the iPhone listing has the correct product model, and says the iPhone is new, and has a manufacturer warranty or dealer warranty – you want the former. That way, if there is any issue, you'll be able to safely return the iPhone back to Apple without any hassle.
To check if your iPhone is under warranty, you'll first need to look up the serial number of your iPhone. It should be listed on the box of the iPhone. If you don't have the original packing handy, you can follow the following steps:
1. Switch on the iPhone.
2. Go to Settings > General > About
Scroll down to check the Serial Number and copy this down.
3. Go to Apple's site and in the text box, enter the serial number of your iPhone and click on Continue.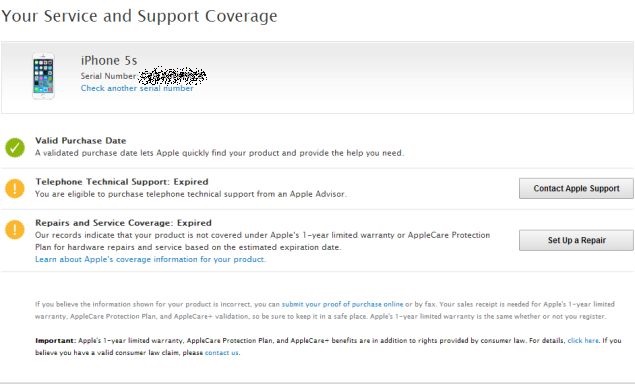 The warranty status of your iPhone will show up, as will the eligibility for extended coverage. There are three headers: Purchase Date, Telephone Technical Support, and Repairs and Service Coverage.
If you bought a new iPhone, there should be a green tick mark next to all 3. If there isn't, then the iPhone's warranty has expired or wasn't valid in the first place and you should return the iPhone.
If it's not a new phone, at the very least, you should see a green tick next to the "Repairs and Service Coverage" head, which indicates Apple will honour your request for repairs and service on your iPhone.